City council 'rewilding' initiative to introduce more wildflower areas to Lincoln
Wed, 09/01/2021 - 17:40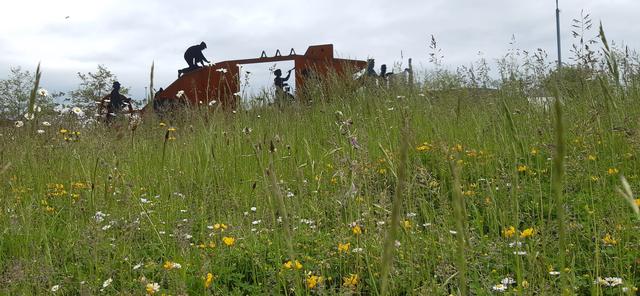 There are 47 Local Wildlife Sites, making up 740 hectares and account for 21% of the land in the City of Lincoln administrative boundary.  Local Wildlife Sites are defined areas identified and selected locally for their substantive nature conservation value. They play a crucial part in the natural processes that maintain, air, soil and water quality and reduce the effects of flooding, pollution and climate change.  They represent local character and distinctiveness and symbolise the best of our urban green spaces.  
The Boultham Park Lake restoration project is now complete and focuses on improving biodiversity and includes:
·       Installing aeration equipment which will stop silt building up and slowly, over time, reduce the amount of silt currently the lake, altogether improving lake water quality
·       Restoring and improving lake edges
·       Lake margin, island and woodland understorey planting
·       Bird and bat boxes
·       Improving the surface around the Beacon
·       Introducing more seating including picnic tables
·       Create a viewing platform, and fishing pegs
·       Improved footpaths
·       Tree works (which have already taken place), due to tree condition or where trees are damaging the lake banks for example
·       Access for occasional boating
·       Public art with interpretations, for example information about the wildlife, habitat, history of the lake and how to get involved
A programme of marginal planting, in and around the lake edges, is complete to bring about an improved habitat, better bio-diversity, and a splash of colour and interest, whilst helping improve water quality.
City of Lincoln Council has launched a number of 'rewilding' initiatives to support biodiversity and enable the natural environments in the city to thrive in a way that best supports native wildlife.  More info City council 'rewilding' initiative to introduce more wildflower areas to Lincoln – City of Lincoln Council