The Coat of Hopes comes to Lincoln!
Fri, 06/10/2022 - 21:28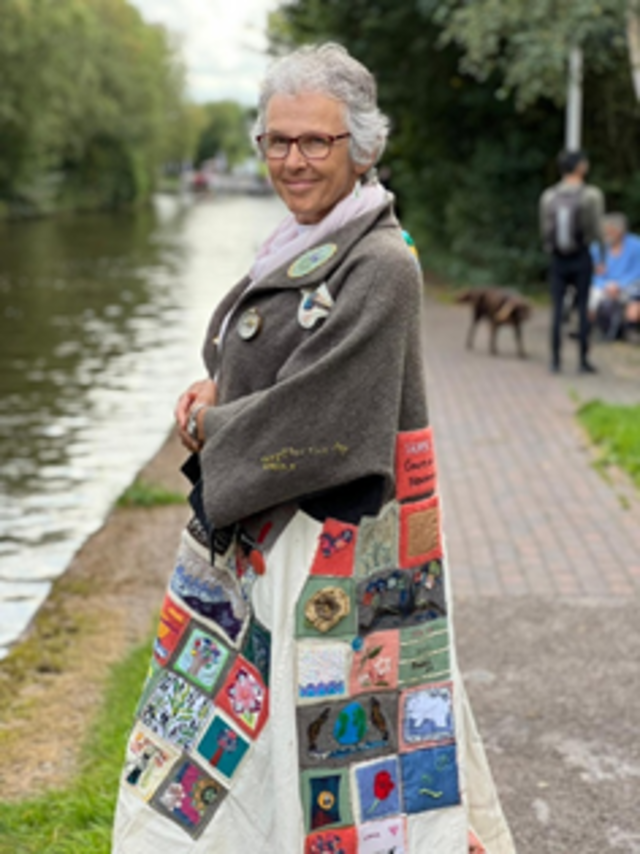 The coat of hopes is a beautiful piece of shared art. It was carried from the south coast of England to Glasgow on the shoulders of pilgrims, arriving at the start of COP26 in 2021.
We are excited that it is coming to Lincoln on September 16th for two weeks, hosted by Faith and the Environment Lincolnshire.
Artist and instigator Barbara Keal describes the coat as follows:
'Sewn into it are hundreds of pieces of blanket - the patchwork hopes, of a people for their land. In the patches you will find griefs for the loss of species, remembrances of landscapes irreversibly changed, prayers that our hearts can expand to welcome those displaced by climate breakdown, hopes and dreams of joy in nature, of safe and sustainable access to fresh food, of safety and freedom to play for our children, and for the children of all beings.'
The coat has a song which explains its purpose, and can be found at https://www.coatofhopes.uk/song-coat-of-hopes
In Lincolnshire, the coat will visit schools during the first week; it will be in Sleaford from 23rd to 25th, then in Lincoln Cathedral for the final week. On Lincolnshire Day, October 1st, we will be based at EarthLincs, Mint Lane between 12 noon and 2pm then out on the streets of uphill Lincoln. St Giles church (Lamb Gdns) will host it on Sunday 2nd October, during the morning service, followed by a bring and share lunch at St Peter in Eastgate.
If this whets your appetite, visit the website www.faithenvlincs.org which will carry the details of the coat's itinerary in September.
Article submitted by Sandie Stratford